In today's new normal, there is a need to have easy-to-see-and-read house numbers. The surge in online ordering, food delivery and mail service has created a demand for better house identification. This, in turn, has led to a trend in DIY projects in households across America to freshen up the look of their address.

Some clever and innovative solutions have been showing up on the internet and it's a great opportunity to be the "hardware hero" for your customer who may be coming in to do an upgrade or just replace old numbers. There are options to consider when purchasing new numbers and your customer may have questions. With multiple points to consider when selecting a house number, let us start with the size of the number.
The average viewing height of a house number is 10' for every inch so if you have a 4" house number it can be viewed clearly at a distance of up to 40'. This is a common size, but some customers may want to go bigger or smaller and knowing this rule of thumb can help you help them pick what is best for their situation. Hy-Ko's wide range of heights in our number series guarantees you will have a fit for almost every customer.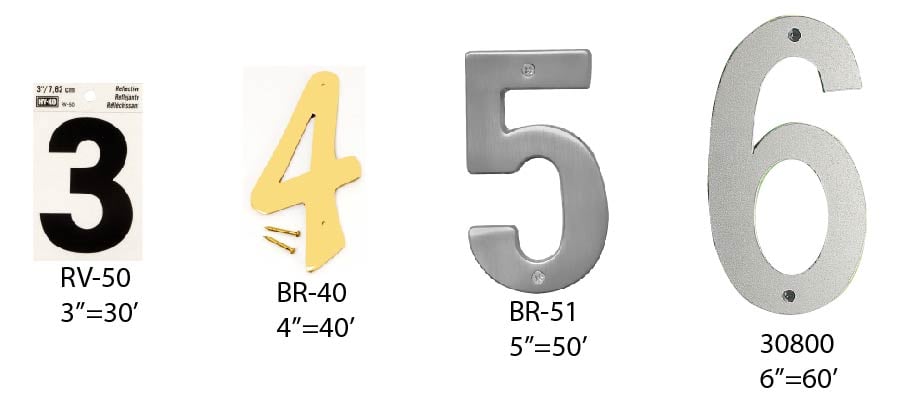 What about font style? Ask the delivery person how much fun it is to try and read a script font while trying to get the order delivered. Trust me, a fancy font may look good on the house, but it is no help for quick identification. This is also a safety concern – 911 services have great technology to help them find locations, but when seconds matter, make sure the address is a nice, bold, simple and easy to read font. Hy-Ko's RV series and the 30800 series are great examples of this type of font in a reflective finish. Don't need reflective? Hy-Ko has many great options to choose from, such as the Prestige Series and the BK series.
Even the color of the number is not a big deal anymore since there are some great spray paint options available in today's market. Your store probably has a few brands that can make any number pop. Here's an idea from blogger Designsponge that shows an address plate using a variety of Hy-Ko numbers, a can of red spray paint and a scrap piece of wood to create a great looking address plate.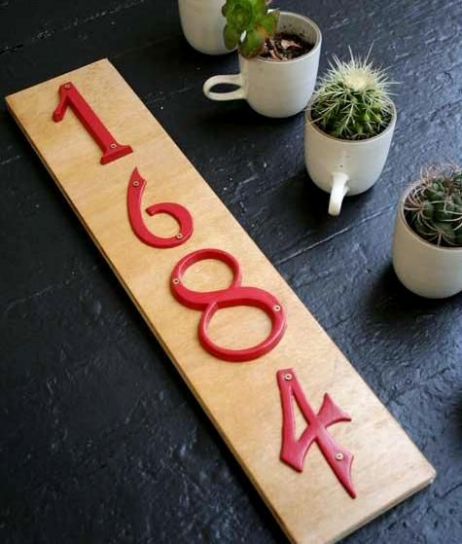 http://www.designsponge.com/2008/02/diy-wednesdays-address-numbers-w-pancake-franks.html
House numbers are a necessary part of our lives that can be simple to update and refresh. Hopefully with these tips you can help your customers walk out the door with everything they need to successfully complete their project!